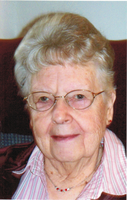 Dorothy Linsner
Dorothy Linsner, age 90, of Groveland, died Wednesday, January 24, 2018 at the Livingston County Center for Nursing and Rehabilitation in Mt. Morris. She was predeceased by her husband, Warren in 2009.
She is survived by her children, Catherine Clark of Fowlerville, Warren (Marty) Linsner of Geneseo, Susan (John) Scondras of Dalton, PA, Dennis (Barb) Linsner of Groveland, Sherry (Gerald) Slane of Retsof, Mary (Ray) Clark of Groveland, Janette (Brian) Robertson of Rochester, Martha (Charles) Potter of West Bloomfield, 15 grandchildren, 33 great grandchildren, sister, Phyllis Linsner of Groveland, many nieces and nephews.
Dorothy was born February 4, 1927 in Geneseo, NY the daughter of Henry and Clara Philips Kornbau. She was retired from SUNY Geneseo where she was a stenographer for the Biology Department.
Calling hours will be held on Saturday, February 24, 2018 from 1-3 PM at the Rector-Hicks Funeral Home, 111 Main St. in Geneseo where Memorial Services will follow visitation at 3 PM. Interment will be in Lakeview Cemetery in Groveland.
In lieu of flowers, memorials may be made to the Groveland Fire Department, PO Box 49, Groveland, NY 14462.